11-01-13
If you're visiting India with Kids in tow, you're in luck because a child in India has access to one of the largest children's festivals in the world – The Golden Elephant International Children's Film Festival.
For a week, India's Hyderabad pulses with excitement as national and international celebrities with a passion for kids' film come and go. The really interesting thing about the Golden Elephant is the interaction of children and adults as it's attended by more than one hundred thousand children and hundreds of film professionals from across the world.
The Golden Elephant begins in mid-November, on the birth date of India's first Prime Minister who is remembered for his love of children. It's held only once every two years, so its really worth making the effort to get to India for this truly unique experience.
If you'd like Tender the Film to 'Shine the Spotlight' on your film festival, please just email liz.tomkins@gmail.com and we'd be happy to write a post for you
10-23-13
It wasn't all hard work in the sound studio.
10-16-13
#9 Anchorman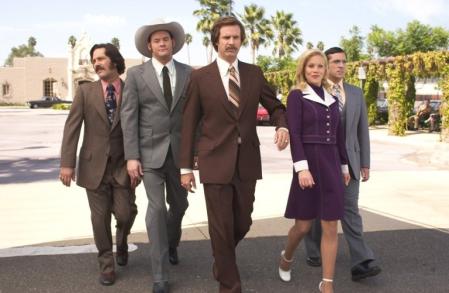 Will Ferrell plays Ron Burgundy in this hilarious parody of broadcast news.
10-01-13
Tender Spotlight today is on the Tokyo International Film festival (TIFF) which will mark it's 26th year this month. Notable fact about this festival – it's the only Japanese film festival accredited by the International Federation of Film Producers Association.
The organizers of TIFF are quite ambitious, they aim to make TIFF one of the four major film fests in the world – along with Cannes, Venice and Berlin. The festival features a variety of genres, and features a mix of gifted first timers with recognized filmmakers.
Genres are divided into four sections: 'Special screenings' (premieres films prior to their release in Japan), 'Winds of Asia – Middle East', 'Japanese Eyes' which exhibits a variety of Japanese films, and my personal favourite 'natural TIFF' which features films with a primary theme of 'co-existence of nature and mankind'.
So even if you don't have a film screening in TIFF, try to get there to see this marvelous selection of Asian and international cinema.
If you'd like Tender the Film to 'Shine the Spotlight' on your film festival, please just email liz.tomkins@gmail.com and we'd be happy to write a post for you
09-25-13
Post Soundie Shane Wild shows his skill.
09-18-13
#8 Police Academy
Police Academy might not be what most people would call classic cinema, but its certainly made it's mark on the comedy genre.
09-11-13
Follow Frank on
Dear Tender Fans,
It is with great pomp and ceremony that I wish to bestow upon you my Grandmother's secret recipe for Pork Pasties. The crispy pastry is the perfect compliment for the Pork filling (or meat of your choice).
Enjoy!!
– Frank
Ingredients
500g minced pork
1 large onion
3 tablespoons plain flour
1/4 teaspoon mixed herbs
1 tablespoon soy sauce
375g packet puff pastry
1 tablespoon water, extra
30g butter
2 medium carrots
2 1/2 cups water
Salt and pepper
3 tablespoons mixed parsley
1 egg yolk
Preparation
Heat butter in pan, add peeled chopped onions and pork. Cook until pork is golden brown, matching meat well.
Add peeled and chopped carrots and flour, stir until combined; remove pan from heat.  Add water, stir until combined. Return pan to heat, stir until sauce comes to boil; reduce heat, add mixed herbs, salt pepper and soy sauce. Reduce heat, simmer covered 45 minutes, remove lid; increase heat slightly, simmer 15 minutes or until meat mixture is thick.  Add parsley, stir until combined.  Allow meat mixture to become cold.

 

Roll out puff pastry very thinly.  Cut six 15 cm circles (a saucer is a good guide).  Brush edge of each pastry circle with combined beaten egg yolk, and extra water.  Divide meat mixture evenly into centre of each pastry circle. Press edges firmly together. Place on greased baking tray and brush top of each with egg glaze.  Bake in very hot oven for five minutes or until golden brown;  reduce heat to moderate, cook a further 15 minutes or until heated through.
Makes 6 patties
09-01-13
If you're looking for things to do in Vancouver this month, you're in luck! The Vancouver International Film Festival just around the corner.
VIFF is screened at this among the five largest festivals in North America and screens a wide array of international films. What makes this festival distinctive is it possesses the largest selection of East Asian Films outside of East Asia, and it's exhibition of Canadian Films and nonfiction program is also very prestigious.
Most notably, the audience VIFF attracts to its theatres is known as enthusiastic film-lovers who are extremely friendly and culturally diverse. Definitely worth a look if you happen to be in British Columbia in September/October.
If you'd like Tender the Film to 'Shine the Spotlight' on your film festival, please just email liz.tomkins@gmail.com and we'd be happy to write a post for you
08-28-13
Watch the voice actors as they record their performances and Post Sound specialist Shane Wild is hard at work.
08-21-13
#7 Ghostbusters
Any comedy starring Bill Murray and Dan Akroyd is bound to be a classic.