12-11-13
Follow Frank on
Hi there Tender Fans,
My grandmother's recipe book is a great source for nutritious fine-dining. Take a look at this recipe for delicious Italian Pork Chops. You won't be disappointed!
TOMATO PROVENCALE
2 x 400g cans tomatoes
A handful of basil (chopped)
2 garlic cloves (crushed)
10g oregano
Splash olive oil
Salt and pepper
In a saucepan cook tomatoes, basil, garlic, oregano and olive oil on medium heat for 20 minutes, stirring occasionally.
Season with salt and pepper to taste.
Remove from heat, and place through blender.
CHOPS
4 pork loin chops
4 tablespoons olive oil
2 garlic cloves crushed
2 (500 ml)cups tomato provencale
salt, pepper
125 g. mushrooms chopped
3 green capsicums cut into strips
flour for dusting
Trim fat from chops, flatten and dust with flour.  Heat two tablespoons of olive oil and fry the garlic. Add chops and fry on both sides until golden brown.  Remove from pan and keep warm.
Add the tomato provencale the pan juices and season with sale and pepper to taste. Stir well and simmer for five minutes. Add the mushrooms and simmer for a further five minutes. Return the chops to the pan and simmmer for a further fifteen minutes.  In another frying pan saute the capsicum strips in the remaining oil.
To serve, arrange chops on dinner plates, drizzling the sauce over the top.  Place the pepper stips on top.
12-01-13
Here's another popular film festival of India!
The highlight of the International Film Festival of Kerala (IFFK) is the competition section for Asian, African, and Latin American countries. It's limited to just 14 films in this section, and the IFFK tends to attract a well-read and serious audience so go with your thinking hat on. There's also a section for Malayalam cinema which consists of local Kerala films shot in the Malayalam language.
If you do manage to attend you'll be treated to Contemporary World Cinema, Retrospectives of Major filmmakers, Homage and Tributes, Contemporary Indian Cinema, Short films and documentaries. In addition to the film competition, there is also a market and seminars on important issues relating to the industry.
The Kerala festival is known for its public support, and screens in some unlikely places, including for residents of a jail, a juvenile home (Poojappura Central Jail, Thiruvananthapuram) and a poor home (Sri Chitra Poor Home).
If you'd like Tender the Film to 'Shine the Spotlight' on your film festival, please just email liz.tomkins@gmail.com and we'd be happy to write a post for you
11-27-13
Take a look at TENDER actress Tarah Carey's showreel. She sure has done some great stuff!!
11-20-13
#10 Office Space
The movie Office Space was not only one of the first notable films starring Jennifer Aniston, but also put a generation of office workers into hysterics.
11-13-13
Follow Frank on
Greetings Tender Fans,

This is another recipe from my Grandmother's special recipe book from the 'old country'.
Nothing beats eating spare ribs, wherever they came from….

Bon Appetit!!

- Frank
Ingredients
4lb pork spareribs    (2kg)
Pepper
1/2 cup soy sauce
Juice 1/2 lemon
3/4 cup water
1/2 teaspoon ground ginger
3/4 cup orange marmalade
1 desertspoon grated fresh ginger
1 clove garlic
Preparation
Place spareribs meaty side down in well greased shallow baking dish. Roast in hot oven 30 minutes. Turn spareribs over, lower temperature to moderate, continue cooking further 30 minutes.  Pour off excess fat from pan.
Combine soy sauce, water, marmalade, crushed garlic, lemon juice, pepper and gingers. Blend thoroughly. Pour the sauce over spare-ribs, cook further 45 minutes basting frequently with sauce.
Serves 6.
11-01-13
If you're visiting India with Kids in tow, you're in luck because a child in India has access to one of the largest children's festivals in the world – The Golden Elephant International Children's Film Festival.
For a week, India's Hyderabad pulses with excitement as national and international celebrities with a passion for kids' film come and go. The really interesting thing about the Golden Elephant is the interaction of children and adults as it's attended by more than one hundred thousand children and hundreds of film professionals from across the world.
The Golden Elephant begins in mid-November, on the birth date of India's first Prime Minister who is remembered for his love of children. It's held only once every two years, so its really worth making the effort to get to India for this truly unique experience.
If you'd like Tender the Film to 'Shine the Spotlight' on your film festival, please just email liz.tomkins@gmail.com and we'd be happy to write a post for you
10-23-13
It wasn't all hard work in the sound studio.
10-16-13
#9 Anchorman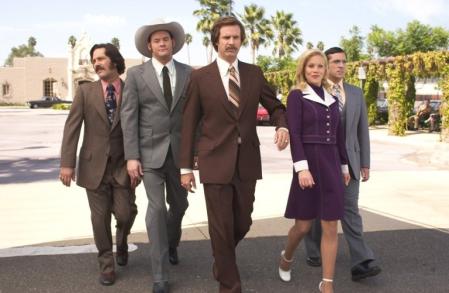 Will Ferrell plays Ron Burgundy in this hilarious parody of broadcast news.
10-09-13
Follow Frank on
Hello my little darlings,
If you're feeling hungry, how about something from Hungary? You'll have lots of fun with this recipe. And as always, be careful where you source your ingredients…especially the meat…
Enjoy!!
- Frank
Ingredients
2 lb (1 kg) Canadian Pork shoulder blade roast
2 tbsp (25 mL) vegetable oil
4 medium onions, thinly sliced
2 cups (500 mL) sliced mushrooms
1/2 cup (125 mL) water or white wine
2 cups (500 mL) canned diced tomatoes
2 tbsp (25 mL) best qualty paprika
1/2 tsp (2 mL) caraway seeds
1 tsp (5 mL) salt
1/2 tsp (2 mL) black pepper
1 cup (250 mL) sour cream
Preparation
Cut pork shoulder into one inch cubes, removing as much fat as possible. A 3 lb shoulder roast should give about 2 lb lean cubes.
In a large, non-stick skillet, brown cubes in one tablespoon oil and transfer to slow cooker or Dutch oven.
Brown onions and mushrooms in same skillet, using remaining oil.
Transfer to cooker or Dutch oven. Add wine or water to skillet, bring to a boil and scrape up brown bits; transfer to cooker or Dutch oven. Add tomatoes, paprika, caraway, salt and pepper to pot; mix well. Slow cooker: cook on "low" for five to six hours. Dutch oven: cook at 300°F (150°C) until pork is tender, about 2 hours. Serve with a dollop of sour cream on broad egg noodles.
10-01-13
Tender Spotlight today is on the Tokyo International Film festival (TIFF) which will mark it's 26th year this month. Notable fact about this festival – it's the only Japanese film festival accredited by the International Federation of Film Producers Association.
The organizers of TIFF are quite ambitious, they aim to make TIFF one of the four major film fests in the world – along with Cannes, Venice and Berlin. The festival features a variety of genres, and features a mix of gifted first timers with recognized filmmakers.
Genres are divided into four sections: 'Special screenings' (premieres films prior to their release in Japan), 'Winds of Asia – Middle East', 'Japanese Eyes' which exhibits a variety of Japanese films, and my personal favourite 'natural TIFF' which features films with a primary theme of 'co-existence of nature and mankind'.
So even if you don't have a film screening in TIFF, try to get there to see this marvelous selection of Asian and international cinema.
If you'd like Tender the Film to 'Shine the Spotlight' on your film festival, please just email liz.tomkins@gmail.com and we'd be happy to write a post for you